I made this tool that allow you to manage your game saves from a Playstation 1 Memory Card on your Windows PC.
You can:
Read from or write to a real Playstation 1 Memory Card using the official Playstation 3 Memory Card USB Adaptor.
Load a Memory Card from multiple file format (*.mc *.mcr *.mcd *.mcx *.gme)
Save a Memory Card to *.mc file format.
Export a single save file to *.mcs file format.
Import a single save file to the currently loaded Memory Card from *.mcs or *.bin file format.
Delete a single save or create a brand new formated Memory Card.
Provided with a Playstation 3 Memory Card Adaptor USB driver compatible with Windows XP, 7, 8, 10, either 32bits or 64bits !
Download and enjoy here :
http://onorisoft.free.fr/psx/psx.htm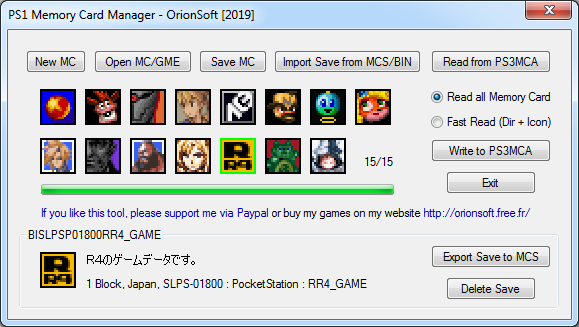 French video tutorial here:
https://www.youtube.com/watch?v=1_ZFHSjXC3s