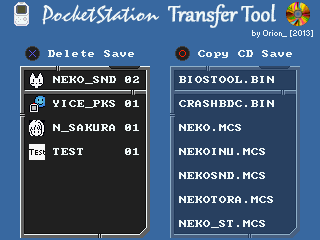 This is a new version of my PocketStation Transfer Tool that will run on a Playstation from a CD.
It will allow you to upload any PocketStation Save file (.bin, .mcs or .gme) from the CD to your PocketStation inserted inside one of the Memory Card Slot.
Featuring a nice user friendly Interface.
Included: My demos, game & Tools for the PocketStation in an already made, ready to burn, ISO file.
http://onorisoft.free.fr/psx/psx.htm#Tools