---
Competition #01 - PSX Music Disk
---
Username: Avanaboy
Project Title: PMD - PSX Music Disk
Time to Complete: 1 Week
SDK: PSY-Q
Genre: Intro/Demo/Music
Latest Release: Version 1.0 ( Final ? )
In Development: No
Initial Release Date: 7-MAY-2012 (Private) / 22-MAY-2012 (Public)
Last Date Updated: -
Controller: 1
Players: 1
Memory Card: -
Languages: Eng
Burn and Play: Yes
Executable Included: No (it uses CD streaming functions to load stuff from disk, so releasing the exe would be useless)
Source Included: Yes (released 10/SEP/12)
---
This is my entry into the first PSDEV competition.This is a Psx Music Disk written in my free time and with PsyQ.
I hope you like my work, and that I get many votes.
Please use this on a real psx (PS1\PSOne) for best results.
Or if u still want to use this on an emulator, I suggest to use pSXfin! (or epsxe)
Thank you

Greetz to:
Haunted. Dark-Show. Candu. Loser. Accro. and all ppl in #PSXDEV on EFNET!
---
Screenshot: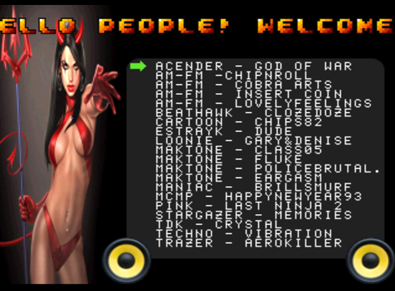 Video:
[youtube]
http://www.youtube.com/watch?v=9WCIvQod2Zo
[/youtube]
---
Readme, CUE + BIN:
http://avanaboy-console.com/psx/releases/PMD.rar
Source Code:
http://avanaboy-console.com/psx/sources/PMD_source.rar
Mirror
Readme, CUE + BIN:
http://psxdev.net/homebrew/files/pmd.rar
Source Code:
http://psxdev.net/homebrew/files/pmd_source.rar