Hello!
I'm trying to hack an arcade game called "Dance Dance Revolution EXTREME" which uses PSX-based hardware called the System 573.
I'm trying to modify one of the TIM files that is included with the game. To do this, I am converting the TIM file into a BMP, modifying the BMP in Photoshop, and then converting it back to TIM.
However, I noticed that no matter which program I use to convert the TIM to BMP, I seem to lose all of the black pixels surrounding the sprites when it's rendered in the game.
I think this is because most of the TIM file is comprised of transparent pixels, but these are converted to pure black with no alpha channel in the BMP. Therefore, all of these black pixels are lost during the re-conversion. I've tried "Tim utility", "PSicture", and "TIMViewer" to convert this, but all of them reproduce the same issue.
Here is the resulting BMP that I converted from the TIM file.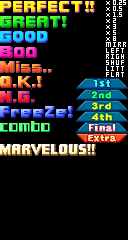 Here's what TIM TOOL sees in the preview. Clearly it knows about these black pixels because it is compositing them on top of a teal background.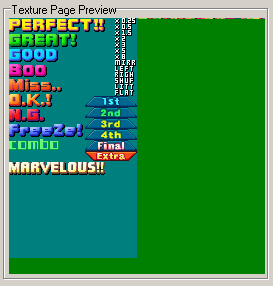 Unfortunately I can't find a way to make TIM TOOL itself convert to BMP or PNG or anything. I don't think this is a supported feature.
How do I modify this TIM file without losing these black pixels?
Thanks!
P.S. If anyone wants to look, here is the original TIM file:
http://zanneth.com/junk/gmob_25.tim