Welcome to the PlayStation 1 and Net Yaroze (PSX, PS1 / PSone) Development website

Here you will find PlayStation 1 tools, advanced system information, schematics, manuals, help, guides, tutorials and also meet the best programmers for the console as well as former Net Yaroze members. Any new users interested in PlayStation 1 development are always welcome.
To get started making games and/or software for the PlayStation 1, follow the Psy-Q Software Development Kit (SDK) guide here. This is the official 'PSX SDK' that licensed Sony developers used to make their games. Don't use any other SDK besides it, as this has everything you will ever need and works flawlessly in creating 2D as well as complex 3D programs. It also contains direct SPU controllability meaning CDDA and XA playback are integrated.
If there are any links down or problems on this site, please notify us by selecting 'Contact' from the above menu bar above.
---
[20/NOV/2022]
- 10 years of PSXDEV.NET!

(we may look into hosting another competition at some stage).
- The contact page has been fixed and is now working again.


---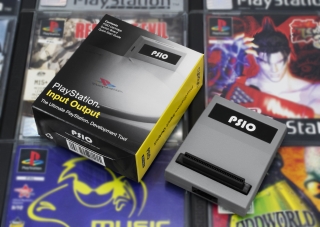 PSIO - The Ultimate Developers Cartridge.
PSIO is simply a development cartridge that plugs into your PlayStation's Parallel I/O Port. It allows you to instantly see your software running from an SD Card or via USB on real hardware, making it the ultimate developers tool, as well as making it invaluable for debugging.
---
Marilyn: In the Magic World

Username:

LameGuy64

Username:

Xavi92

Project Title:

Marilyn: In the Magic World

Project Title:

Airport

Time to Complete: 6 Months

Time to Complete: -

SDK: Psy-Q

SDK: PSXSDK

Latest Release: 0.10a

Latest Release: -

In Development: Yes

In Development: Yes

Initial Release Date: 04-JAN-2014

Initial Release Date: 01-MAY-2017

Last Date Updated: 05-MAY-2014

Last Date Updated: 09-AUG-2017

Controller: CONTROL PAD

Controller: CONTROL PAD

Players: 1

Players: 2

Memory Card: 0 Block

Memory Card: 1 Block

Languages:

Languages:

Region: Auto/Manual

Region: PAL

Burn and Play: Yes

Burn and Play: No

Executable Included: No

Executable Included: No

Source Included:

mitmw_010a_source.7z

Source Included: Yes

Download Link:

mitmw_010a.7z

Source Link:

GitHub